Enjoy hunting for agates? You are not alone. Join the Lake Superior Agate group on Facebook and be part of a community of over 4,000 people!
Rock Shops
Beaver Bay Agate Shop & Jewelry
Website: BeaverBayAgateShop.com
Map and Directions: 1003 Main Street, Beaver Bay, MN 55601
Phone: (218) 226-4847
Facebook: Beaver Bay Agate Shop
Specializes in LSAs, Thompsonite, Isle Royal Greenstone and has a free museum.
Veberod Gem Gallery
Website: VGems.net
Map and Directions: 13019 Ridgedale Drive, Minnetonka, MN 55305
Phone: (952) 595-8338
Email: bradanderson@vgems.net
Class Information: Sign Up
Agate City Rocks & Gifts
Website: AgateCity.com
Map and Directions: 721 7th Ave Two Harbors, MN 55616
Phone: (218) 834-2304
Email: bob@agatecity.com
Mark your calendars for the Agate City Rock Show Sale & Swap on September 19, 2015
Rocks and Things
Mr. Val B. Carver, Proprietor
Rocks, Minerals, Crystals and Specimens
Website: RocksAndThings.com
Map and Directions: 201 N. Rum River Dr, Princeton, MN
Phone: (763) 389-0979
Email: sales@lapidarysupplies.com
Hours: Tuesday through Friday 9:30AM to 5:30PM, Saturday 9:00AM to 4:00PM. Closed on Sundays and Mondays
Specialties: Lapidary supplies and tools, Tumblers, Things made from rocks, Custom Lapidary

Agate Museums
It is a good idea to call or check the hours before visiting, as the hours vary seasonally.
Moose Lake Agate and Geological Center
Website: Museum Information
Map and Directions: 4252 Co Rd 137 Moose Lake, MN
Hours: Museum Hours

Gitche Gumee Agate and History Museum
Website: Museum Information
Map and Directions: E21739 Brazel Street, Grand Marais, Michigan
Phone: 906-494-3000
Hours: Museum Hours

The Mineral Museum of Michigan
Website: Museum Information
Map and Directions: 1404 E. Sharon Avenue Houghton, Michigan
Phone: (906)487-2572
Hours: Museum Hours

Agate Dealers
Superior Lapidary
"A Fine Piece of Jewelry does not start in a showcase"
Website: SuperiorLapidar.com
Specialties: Lake Superior Agates, Cabochons, Jewelry

GLG Gemstone
"Quality Gemstones from Around the World"
Website: GLGGemstoneJewerly.com
Phone: (651)426-2737
Specialties: Botswana, Mexican, Polyhedroids and more

Hausen Rock Treasures Wholesale
Website: RockTreasuresWholesale.com
Phone: 763-202-9330
Specialties: Features materials from Madagascar, Brazil, South Africa, Russian and Norway.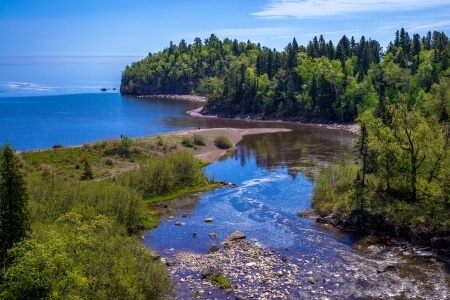 Agate Hunting, at the Mouth of the Beaver River, on Lake Superior
Photo by Steven Gaertner
Copyright: stevengaertner / 123RF Stock Photo
---
Do you know of events, classes or rock shops that you would like to be listed here? Send the details to Susan @ White Buffalo.
---
Interested in tumbling rocks?
Rock Tumbler
Consider starting with a rock tumbler with two barrels, such as this one sold on Amazon.com.
Lortone 33b Double Barrel Tumbler.
Having two barrels allows you to have your stones at two different stages. For, example you can use one barrel for new rocks to see if they are worth ongoing polishing, and the second barrel to run the rocks through the four stages of polishing.
Tumbling Grit
Your rocks are tumbled with four stages of rock polishing grit, starting with a course grit and ending with a polish. You can buy a set of grits as a package.
Tru-Square Rock Tumbling Grit, No 304.
After these four phases, run your rocks through a fifth stage with Ivory Soap and water.
Plastic Beads
When you use your rock tumbler, make sure to add plastic beads such as these:
Thumler's Tumbler 320 Plastic Tumbling Beads 1/2 lb(8 oz)
These plastic beads protect your rocks from cracking in the tumbler. The beads can be reused. Be sure to rinse them thoroughly between polishing stages. It is very important that not one grain of grit be carried forward to the next stage because it will scratch your rocks.