Custom Rock Hound Websites
Have friends been telling you that you need a website?
You absolutely do! In today's world, your buyers expect you to have a website. Your customers look on-line to find rocks and see examples of your work. Let us create a website for you!
Fixed Prices. No surprises.
Because we focus on websites for rock shops, we are able to create websites at a very low cost. We believe in transparent pricing rather than charging an hourly rate, so you know your project will stay on budget.
All devices. All sizes.
Rockhound Websites incorporate the priniciples of Responsive Web Design. What this means is that our websites will work well on a desktop, a tablet, and on a smartphone. This is important as your customers will access your website from all types of devices.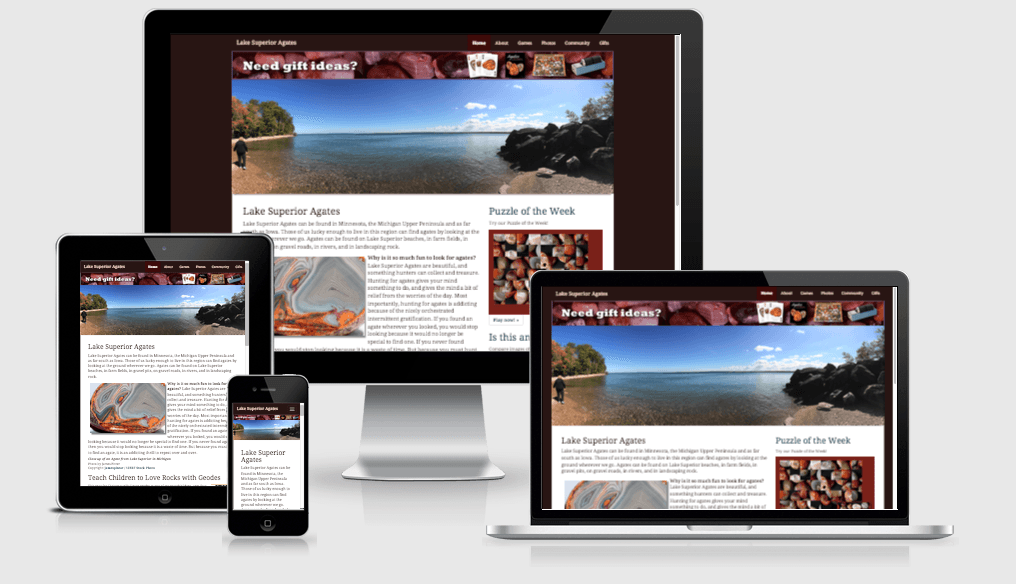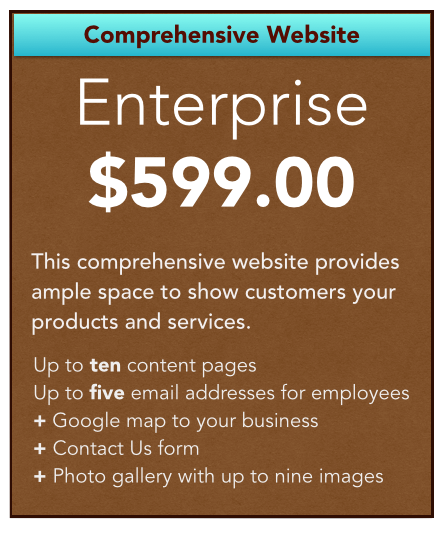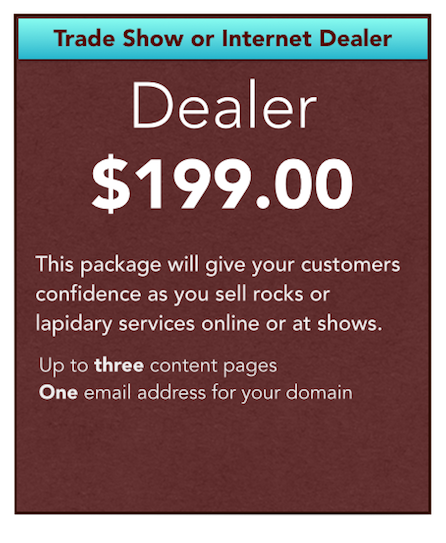 All website plans include:
One year of free hosting!
Unlimited changes during the 30-day warranty period.
A responsive website that will work well on smartphones, tablets, laptops, and desktops.
Ongoing Costs
Domain Cost: The cost of a domain is generally $16.00 per year. If we purchase your domain for you we will pass through the cost of the domain.
Ongoing changes: There is no charge for changes to your website during the 30-day warranty period. After that, updates to your website will be billed at the rate of $15 for 15 minutes of work, with a 15-minute minumum. Many changes can be made in 15 minutes or less. We will provide you with a time estimate before we complete the work. We will provide a bid for more comprehensive changes to your website.
Hosting: Website hosting is $99 per year after the first year. The first year of hosting is included in your package price.
Optional add-ons:
$50 for each additional page.
$20 for each additional email address.
$75 Contact Us form. When a users fills out a form you will receive an email with the content. (Included in the Enterprise package.)
$95 for an Image Gallery for up to 9 images. (Included in the Enterprise package.)
$95 to add a fun game to your website. Of course, we will use your own images and content in the game. Here are some ideas:
Word Find | Picture Quiz | Puzzle
$50 Facebook, LinkedIn or Twitter images that match your website.
$249 to integrate your website with the Shopping Service of your choice. You will have additional fees from the shopping service. There is no charge to simply have links to products sold on another website. For example, you can have links to products you sell on Ebay.
$50 per year for private SSL certificate, which is required for secure transactions.
$199 for set up of Google Advertising for your service or product.
$100 to remove the "Website by RockHoundWebsites.com" link at the bottom of the all pages of your website.
Need a website where you can add content to the app yourself? We can do that too! We apply a variety of approaches that will give you access to make changes on your website. Prices start at $150.