"Dad, is this an Agate?"
When I was a child, my father and Uncle Ted took me, my siblings and cousins to gravel pits to look for agates. We went almost every Sunday afternoon in the summer. We picked through the rocks looking for the characteristic red banding of Lake Superior agates. When we found what we thought was a possible agate, we would show my father and ask him, "Is this an agate?"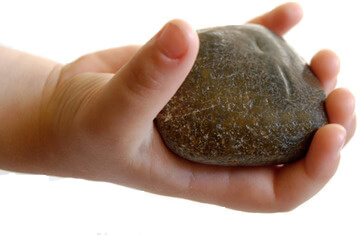 Novice Lake Superior Agate hunters need help from experienced agate collectors and ask, "Is this an agate"? This website will be a place to find the answer.
My name is Susan Metoxen and I am a novice agate huntress and founder of White Buffalo, Web and Mobile Solutions. White Buffalo makes websites and apps and is based in Hopkins, Minnesota. This website is supported by the advertisements you see throughout the site and by referral payments for links to recommended products.
My vision is to make this website a true blessing to the community of Lake Superior Agate hunters. Please feel free to send your recommendations for this website to Susan@WhiteBuffaloSolutions.com. I would be happy to consider content you would like to post on this site, including articles you write, YouTube videos you want to share, or a picture of your favorite agate with a story about how you found it. Of course, all content on this site must be related to Lake Superior Agates or other rocks found in pursuit of the Lake Superior agate.
Happy hunting!
Why is it so much fun to look for agates?
Lake Superior Agates are beautiful, and something hunters can collect and treasure. Hunting for agates gives your mind something to do, and gives the mind a bit of relief from the worries of the day. Most importantly, hunting for agates is addicting because of the nicely orchestrated intermittent gratification. If you found an agate wherever you looked, you would stop looking because it would no longer be special to find one. If you never found agates, then you would stop looking because it is a waste of time. But because you must hunt to find an agate, it is an addicting thrill to repeat over and over.
Teach Children to Love Rocks with Geodes
This year for Christmas gifts I gave geodes to two of my grandchildren, ages four and seven. We had fun breaking the geodes to see what was inside. We compared what we had inside our geodes to the pictures in the booklet that comes with the kit shown at right. The four-year old had some trouble breaking the geodes herself, but she definitely enjoyed trying to crack them up. The seven-year old broke them with a hammer with a few tries. After this experience, the seven-year old now is interested in being a Geologist, and he wants to hunt for cool rocks with me.
It was a great way to engage children in my hobby. Now whenever we walk around, the children are constantly handing me pieces of quartz and asking me, "Is this an agate?"
My grandson was so fascinated with geodes, that we made a little website together called, GeodeKids.com.
Close up of an Agate from Lake Superior in Michigan
Photo by James Pinter
Copyright: jamespintar / 123RF Stock Photo
Copyright:
smit / 123RF Stock Photo
---